Our Services
Laser - Cosmetic - Reconstructive Surgery
Dr. A. Ananda Dorai
MBBS (Madras), MS (Plastic Surgery, USM), AM (Mal)
Fellowship in Burns, Laser & Aesthetic Surgery (Taiwan)
Consultant Plastic, Reconstructive & Aesthetic Surgeon
WELCOME TO COSMETIC ARTISTRY
Cosmetic Surgery & Plastic Surgeon Kuala Lumpur, Malaysia
Taking a step into cosmetic surgery requires a lot of courage. Imbibed by courage and driven by passion, Cosmetic Artistry ensures that you are taken care well by our pleasant and friendly staff. The staffs are well experienced to understand your queries and cater to your utmost needs. The centre is well equipped with state of the art facilities to provide you with the best care. Dr. Ananda is a well experienced Plastic Surgeon, who ensures that all his patients get the best possible care and treatment.
Awards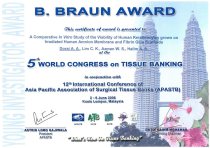 Testimonials
01

19-12-2016, Kuala Lumpur

Treatment : Tummy tuck and Liposuction

The transformation from being a self-conscious mother of 2 to a highly gratified individual couldn't have been possible without Dr. Ananda Dorai.

Thank you sir for the transformation.

Having delivered 2 kids via c-section, I was left with a hanging belly and a feeling of looking older than I actually was, lingered in my mind constantly. I had researched widely on getting my belly repaired or fixed. I had checked all fat burning promises online. But I was smart enough to realize that the sole burning of fat will not provide me desired results. In fact it would leave behind more saggy skin which would look worst. I thank god for this realization and looked on for a permanent solution. I realized that a full tummy tuck was an answer to my problem.

After a wide research, Dr.Ananda Dorai was my choice. I was beyond impressed with the level of experience and expertise of Dr. Ananda ...

- AJ -

02

28-3-2017, Kuala Lumpur

" My expectations have been more than exceeded with this whole experience"

Treatment : Breast augmentation

Dr Ananda is a great doctor! I have no fear before the surgery as I trusted in him so much! I'm so grateful that I found him! I've experienced the best treatment with his expertise in this field. His staff Ms Lok is a very nice lady. She speaks to me politely and replied all my messages whenever I text her. Recovery has been smooth and easy so far, I'm listening to doctor's directions and any time I call or text him/ms Lok, they'll give me answers right away and my expectations have been more than exceeded with this whole experience!

Highly recommended this doctor to everyone!

- Sh -

03

19 Apr 2017, Kuala Lumpur.

"I am highly satisfied with the results and boosted my confidence"

Treatment Received: Breast Implants

Dr. Ananda did an amazing job listening to me about the look I wanted and talking to me about what are realistic expectations. He choose what was going to the be the best for me and my body type. He was very patient and understanding. I had several consultations from other plastic surgeons, but he was the one that I felt treated me like a patient and not just another person coming into to do a routine plastic surgery procedure. I wanted to feel comfortable and trust the surgeon before changing my appearance. Dr. Ananda did exactly that.

Dr. Ananda provided excellent care and superb results. I am highly satisfied with the results and boosted my confidence.

I heartily recommend Dr. Ananda to anyone who is looking for perfection.

- Piya -

04

19-5-2017, Australia

Treatment: Lipo Abdominoplasty, Fat grafting

Dr. Ananda is an amazing cosmetic surgeon, I fully agree, after searching over a year, I finally found him with high recommendations from a lady from overseas, he did a fantastic job for me and I am very pleased with the results, would high recommend him, who has good understanding with his patients, takes time to listen to your requirements and workout good and reasonable packages.

Thank you once again.

- Mashita Abdullah -

05

26-3-2017, Mauritius.

Treatment : Breast Reduction & Tummy Tuck

"Very professional and caring to the patient"

Dr Ananda been very patience to explains every single questions that I've had asked. Very professional and caring to the patient.

I must have to say Dr. Ananda did a very great job and I'm very satisfied.

- Vivian -

06

26 July 2016, Miri, Sarawak

"Dr. Ananda is widely experienced especially in cosmetic"

Our purpose visit is because of our baby is cleft lip. We have done our search & looked the whole Malaysia's doctors reconstructive plastic surgery specialist and finally we choose Dr. Ananda. The reason we choose him is because Dr. Ananda is widely experienced especially in cosmetic. Secondly, he is good listener and patient doctor to give lots of advise how to bring your baby before and after surgery. In addition, overall cost is logical and make sense.

The hospital is fully equipped with specialist plus high technology equipment. Doctor and nurse are polite, patient and also helpful for your any request. In addition, when food and accommodation in the hospital are comfortable. In general, the environment of the hospital are well & comfortable for us during visiting. It is worth for our baby come for the treatment.

- Mr. Chiew -

07

13 June 2016, Kuala Lumpur

" After having two kids, my breasts looked more sagging. My husband and I had considered an augmentation and finally decided to go through with it. We were glad we found the best and skilled Dr Ananda's Cosmetic Surgery Clinic at Tropicana Medical Centre. He was very professional, welcoming and his staf was friendly too. I decided to go through with the surgery finally…and the result was amazing… my breasts are lifted, fuller and natural looking. They drop a little so they look and feel natural.

I felt uncomfortable for the first few weeks. My chest was slightly heavy and tight for a couple weeks to a month after, but was fully healed by the 3rd month. The scars are under the breast crease and getting invisible. Started out as a 34B and now I am a 34D.

My husband is very happy and satisfied with my results and we are able to enjoy our time together. "

- Mrs. Siva -

08

22 March 2016, Trinidad and Tobago

"Answered all my questions and explaining them to me in detail".

"Thanks to Dr. Ananda for a great job done. I had liposuction done and found Dr. Ananda to be one of the most caring doctor I have visited. I will recommend anyone wanting to have cosmetic surgery done to make the right choice and visit Dr. Ananda's clinic.

I visited 3 clinics to have my surgery done. My experience at Dr. Ananda's clinic was one of caring , answered all my questions and explaining them to me in details. Staff was well organize and very helpful."

- Shaffiat Ali -

09

13 December 2015, Kuala Lumpur

"Results of breast reduction are excellent".

"Excellent from start to finish. I had a bilateral breast reduction. Very hard job as my breast were extremely large and not symetrical. The operation took an extra two hours.

Despite that the results so far are excellent.

I recommend Dr Ananda who takes time to talk to you really cares not in a rush and gives you the best service and ensures great results. I chose this hospital because it is Close to my home and very good value for money.

Also better value for money compared to both UAE and Thailand which I had checked out first."

- Elizabeth Mason -

10

30th November 2015, Kuala Lumpur

"It's been almost a month since I underwent a breast reduction surgery .

I can say I am absolutely amazed at my results. Before the surgery I was in a lot of doubt and what I was about to do but Dr Ananda was there to rectify all my doubts and left no questions unanswered. I can say that he is indeed an expert in his field and was there to inform me on everything I needed to know.

Post-surgery, Dr Ananda made sure to check up on me about how my healing process was going and all the following check-ups went very well as well. My wounds are almost fully healed and in the process of fading.

I will definitely recommend Dr Ananda to anyone who wants to do any sort of plastic surgery without a second thought.

Thank you so much Dr Ananda for providing me the results that I wanted."

- Sindhu Cherian -

11

27 November 2015, Kuala Lumpur

I had a scar at the upper lip due to an accident several years ago. The scar on my face had black color on it and people keep staring on my scar. I went to numerous beauty spa to make the scar on my face disappear, but it was failed. The beauty spa keep on saying that I need to do several treatment.

Finally i made my mind to meet Dr Ananda to have a consultation with him. He was indeed an expert as he informed me the cause of my scar. The scar cannot be treated with any beauty equipment but only with a minor surgery. After the minor surgery, the scar went off 60% and I was grateful to him. His service was excellent and he took care of me.

I would recommend people who has problem with their skin to meet Dr Ananda the expert rather than just doing the treatment at any beauty spa. I can guarantee you ...

- Aisyah -

12

3 November 2015, Singapore

Its been 2.5 months Post Op of Tummy Tuck and Lipo.

I can say that you are a "cool" doctor. You can put anyone at ease and you have managed to reassure me and answer all my questions. I do appreciate your daily visits during my stay in the hospital and constant contact via Whats App which i felt was a nice gesture. Kudos to your staff and OT room staff esp to my anesthetist, who were all very highly skilled.

The surgery went well and healing was unevenful, Thank God. Keep up the good work. I will definitely recommend Dr Ananda to anyone looking to have tummy tuck and lipo without a second thought.

Thank You and see you soon.

- Zeenat Samad -

13

10 October 2015, Kuala Lumpur

I underwent liposuction with Dr. Ananda. I had always concerns about my problematic areas which are my tummy, arms and hips. Dr. Ananda did an excellent job and he is a very dedicated doctor.

He will always be there when you need him and will make sure that you come back for check up regularly. Overall, I am very satisfied with the results and will definately recommend anyone who is interested to have liposuction to see Dr. Ananda.

- Alexis Smith -

14

5 August 2015, USA

Me and my wife had good plastic surgery experience with Dr Ananda in Malaysia.

I had an abdominoplasty ( Tummy tuck ) surgery and my wife had a rhinoplasty surgery with him in Tropicana Medical Centre . After surgery I can say he's one of best and friendly Dr I saw in my life and he's very professional in his skills. Thanks Dr.

- Mehdi Zavareh and Seyedeh Zahra Janani, USA, 5-8-2105 -

15

20 June 2015, Kuala Lumpur

I had severe burns on my left 3rd finger. It was really bad until it became stiff and I couldn't bend the finger. I had searched online high and low on burn specialist whether it's available in Klang Valley, lo and behold I have found which is located less than 10 minutes away from my home.

Before I met Dr Ananda, so many thoughts ran through my mind whether my finger will heal or will get better. But I was really glad when I made the first appointment with Dr Ananda, he immediately addressed my concerns and answered all my queries on pre and post surgery when he suggested a skin graft would be the best option for my case. He also explained in detail on the process of the surgery and kept reassuring that my finger will be ok.

I went for the surgery the following day and in a few weeks I have seen dramatic changes where am able to ...

- Zafe Fazillah binti Abu Bakar -

16

22 April 2014, Penang

I'm glad I met Dr. Ananda. There is no other doctor I know that can do a better job in fixing my deep acne scar.. He is very professional &I am very happy with the result.. My face is smoother now &I am more confident.

- Tan Ee Ling, Penang -

17

13 April 2014, Penang

I was diagnosed with breast cancer stage 2 five months ago. It was a huge shock and suddenly I was faced with some very hard decisions to make in a short space of time. My breast surgeon told me that I needed a mastectomy on my left breast but advised me that I could have a breast reconstruction done at the same time as the mastectomy.

I then spoke to DrAnanda and he gave me information about breast reconstruction. He told me that he could perform a "tummy tuck" and use my own tissue for the reconstruction or he could use a silicon implant. I didn't like the idea of an implant so opted for the "tummy tuck". As it was done at the same time as the mastectomy I was able to retain most of my breast skin apart from a patch covering the nipple. This was covered using skin removed from my tummy. I'm now glad that I opted for the reconstruction ...

- Patricia Collinson, Australia -

18

20 January 2014, Penang

Taking the step to consult a plastic surgeon is one which takes courage as a stigma is attached,evev in this day and age.I have been a patient of Dr.A.Ananda Dorai for some time.

For me it is extremely important to establish a good relationship based on trust and patience. Dr.A.Ananda Dorai a good listener as well as being extremely skilled. I find that Dr.A.Ananda Dorai has all of these very valuable skills and it is for that reason that I do not hesitate recommending Dr.A.Ananda Dorai as a plastic,Reconstructive and Aesthetic Surgeon.

- M.C.B.Wilson van der Hulst, Holland -
Take a video tour
This video introduces Dr. Ananda's clinic, the services provided, awards, testimonials, magazines and media interview.
Membership
Membership in International / National Association